Hello everyone!
It is spring now (at least the weather is starting to act like spring) so why not share a fall photo shoot? Huh? Well, bear with me, I want to share these photos of this awesome family that were taken in the fall of 2008. I have known this family for a long time, I was in the same class as Mike from Kindergarten all the way to the end of high school! His mom said she had wanted fall photos of the family for as long as she could remember so I was happy to help out! The best part is, these photos were taken right on the road where I grew up! I always say that we are lucky here in Canada to experience all of the seasons to their full extremes (yes I even appreciate winter!)
Enjoy a sample of the shots!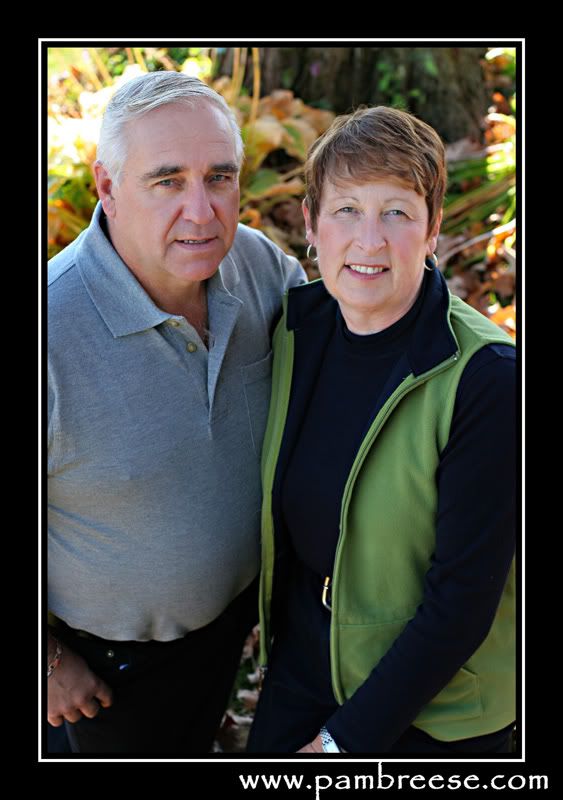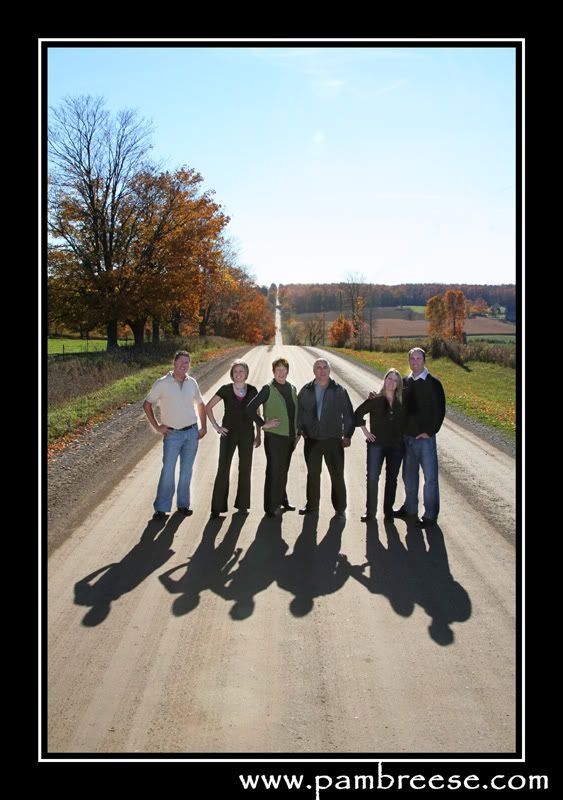 Photography Tip #18
Shutter speed for low light
A few weeks ago I did a photography tip about using
shutter speed to freeze action
and today I want to share another fun way to use shutter speed, in low light or near darkness.
Have you ever wondered how photographers get those pictures of cars on the highway and all you can see is a trail of red from the taillights? Well I'm here to tell you how you can do it! Last time I talked about the importance of using fast shutter speeds to freeze action, but if you use long shutter speeds, you will do just the opposite, show action. Unfortunately though, the longer the shutter is open, the more light hits the sensor. So if you try this in bright daylight, so much light will come in that you will end up with a white or very washed out picture. It is best play around with this tip after dark. So here is what you need to get the cool shot:
- a camera where you can adjust shutter speed (going as low as 30 seconds is great)
- a tripod, let me repeat you
must
have a tripod
- a cool subject, something that emits light among lots of darkness is perfect
What you need to do is read your manual and figure out how to slow down your shutter speed. Then mount your camera on your tripod. The reason for the tripod is to eliminate any movement of the camera while the shutter is open. If the camera moves, your picture will show the movement with squiggly lines. If you are shooting cars on the highway and move your camera, it will look like there are a bunch of erratic drivers on the road! Then aim your camera, wait for the perfect moment and shoot! Your shutter will stay open for what seems like forever and then it will close. Do not move the camera while the shutter is open. All the action that is taking place in front of the camera while the shutter is open will be captured in the image. Even the movement cause by pressing the shutter button can lead to shake so I sometimes use my automatic timer to trigger the shutter. Take several shots and play with the shutter speeds, you can get some cool results!
Here are some of my recent slow shutter speed shots.
Fireworks are fun!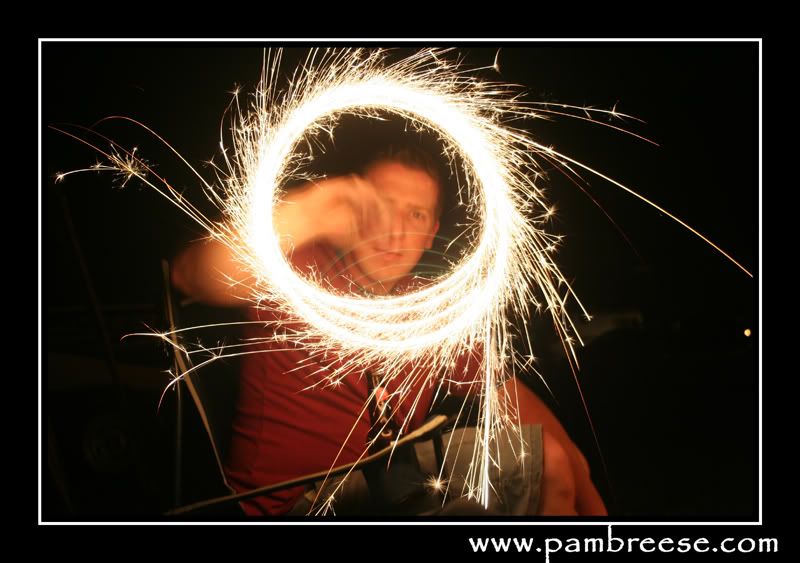 You can see that the light from the sparklers was captured from start to finish. As you can see it is really hard to keep people from moving, but you can try!
These next 2 shots did not capture a lot of action but I used a slow shutter speed to absorb as much light as possible since it was nearly dark on the beach that night.
There are so many cool things to shoot this way so play around and have fun! If you use a really long shutter speed (often called bulb mode) you can take a picture of the stars and you will wonder why you see them as lines instead of dots when you are sure you used your tripod properly, well that is beacause the Earth is moving silly! I think that is sooooooo cool! Just
Google
star trails and you'll see what I mean!
see ya!
Pam