Hi everyone! I hope you are having a beautiful weekend.
Let's continue the review of my 2008 photo shoots!

Lowville
park, which is located on Guelph Line between Guelph and Burlington, was the location for this shoot of my friend Kelly and her family, including 2 doggies! It was a beautiful day in early fall, which made it perfect for a photo shoot. Enjoy some shots!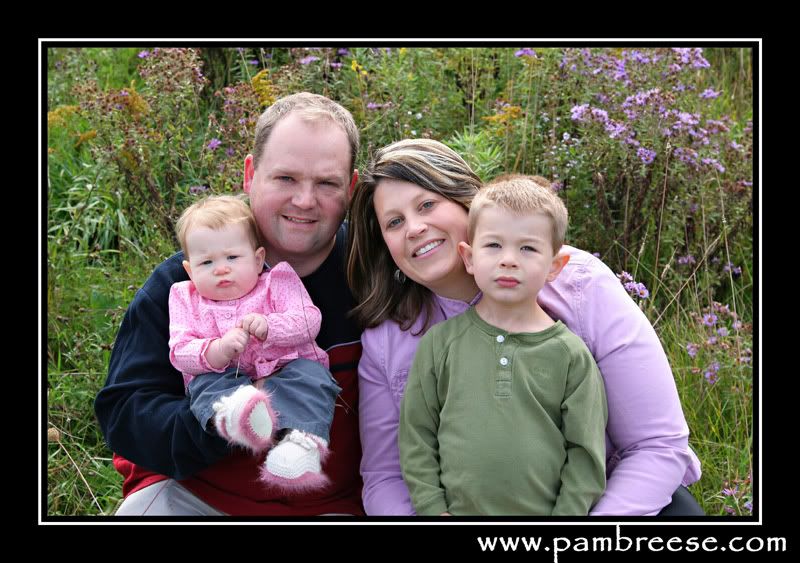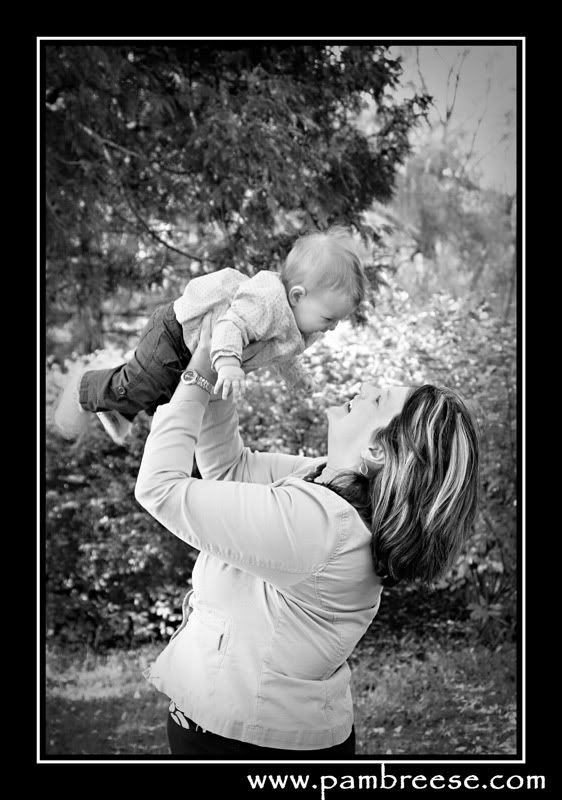 Photography Tip #15
Shutter speed and freezing action
There are 3 things that make up exposure: aperture, shutter speed, and ISO. A while back, I did a tip about
aperture
so I hope you have all been practicing your soft blurry backgrounds! Shutter speed refers to the amount of time that it takes for the shutter on your camera to open and close, to let in the light. There is so much we could talk about shutter speed but I will focus on freezing action today.
But first a little technical info (consider yourself warned).
My camera (Canon) refers to shutter speed as Tv (so I just think T for time to help me remember). Shutter speed is measured in fractions of a second such as 1/200 of a second. Again, like aperture, it is typically represented with the lower part of the fraction on you camera. If you use a shutter speed of 1/1000 of a second it will probably be labeled as 1000 on you camera. So the higher the number, the faster the shutter opens and closes. The exception to that is when you use really slow shutter speeds like 2 seconds. Your camera has to distinguish between 1/2 second and 2 seconds. Mine does this with a symbol after the number to represent seconds. So 2 means 1/2 a second and 2" means 2 seconds. I know that part was really boring, it really is like learning another language!
If you have ever used your "action" setting on your camera (usually a symbol of a person running) you are telling your camera that you want to take a picture of something that is moving fast. Your camera will take your advice and try to shoot at a faster shutter speed to freeze the motion. So why should you care if your camera decides? Photographers rarely rely on the automatic decisions made by their cameras, I think it's a control thing!
Here is an example of where shutter speed played an important role in how my picture turned out.
1/100 of a second shutter speed sounds pretty fast doesn't it? Well not when you are taking a picture of a bull who is trying to get that darn cowboy off his back!
Here is what I got at a shutter speed of 1/100 second:
You can see that I did not freeze the action very well, there is a lot of blur in this photo. Also, since it was such a bright day, lots of light came in so this picture is a little washed out (overexposed).
So I changed my shutter speed to 1/3200 of a second (man-o-man that is fast!) and this is what I got: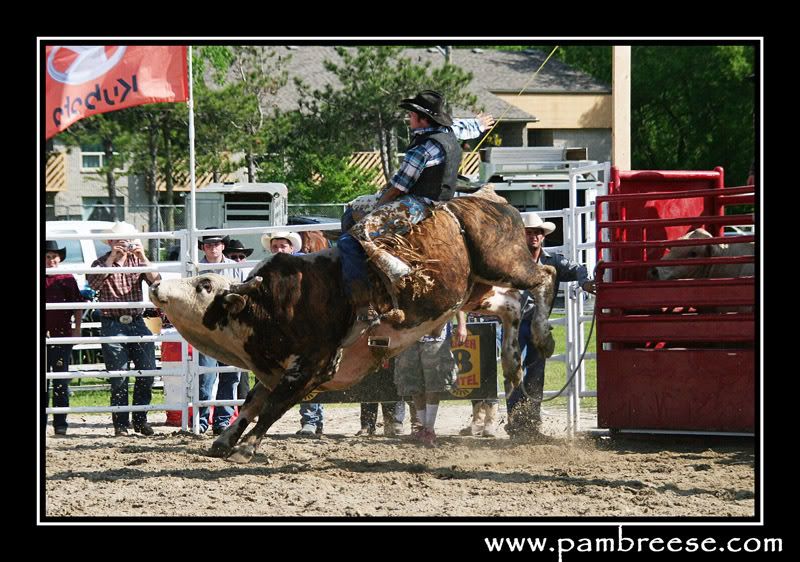 a frozen bull and cowboy! I like that I can see the specs of dirt flying too!
For both pictures I had the camera in shutter priority (Tv) meaning that I let the camera choose the aperture for me (I was willing to give up a little control that day I guess).
Shutter speed is also really cool to use in the dark so maybe I'll blog about that next week!